Deep in the Heart of Ellis
Precision Pearl Inlay
© Frank Ford, 5/26/01; Photos by FF, 5/18/01

Please click on these photos for more detail

Tom Ellis lives and works in Austin, Texas (512-442-4941). Like many small shops, his has no actual identifying sign out by the street, unless you count this one at the end of the drive by the garage:




He works in a roomy building behind the garage, along with three employees, including Nina, here at her desk:


When Richard Johnston and I arrived for our visit, she asked, "have you ever held a sugar glider?" Not knowing what the hell she was talking about, we stood there, puzzled a while until she unfolded the towel in her desk drawer: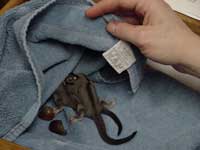 We spent entirely too much time talking about these incredible little marsupial pets. These two are about 5 months old, and around half their adult size. They're worth a quick Internet search.
Here are a few more photos to look at before we get down to business. . .

Over in the corner, Tom has one of the guitars he made and inlaid some years ago:



And, before showing off his shop, he treated us to a quick tune and a view of his latest instrument:

A really fine sounding mandolin, to be sure!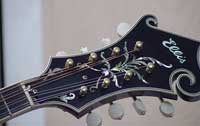 When Tom goes to trade shows, he always brings along some samples of the production inlay he does for a variety of well-known factories and luthiers:



Here are a few fingerboards he keeps around as samples, too: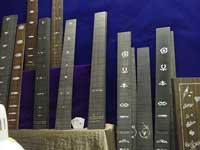 This poker hand is an Ellis specialty:


Years ago he used this simple rig to cut pearl inlay by hand, but today, all his work is designed and cut with computer aided gear (CNC).



Richard looks on as Tom pulls up an inlay file:




He does all his own computer work as well as maintaining the cutting equipment:



Posted on the walls, there are lots of inlay layouts: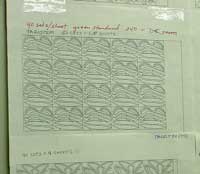 And here's one of the two CNC mills that cut the pearl.


The cutter is an end mill that is often as small as a hundredth of an inch (0.010") in diameter
'Some of his work involves cutting large numbers of small parts from laminated pearl sheets:


These are tiny bits for one of the Celtic style Taylor inlay patterns.

Most of the pearl inlay is cut from solid pearl blanks, which are stuck to phenolic work boards with hide glue:


After the patterns are cut, the boards are soaked in water to dissolve the glue and release the tiny pieces, which are often quite fragile.

Scraps get reused until there is almost nothing left:



This bin contains some of the sixty boards Tom runs each month for Taylor Guitars: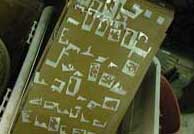 Anybody need 5 gallons of teeny pearl shards?





Below are photos of the three CNC mills Tom uses to cut the inlay recesses in fingerboards and peghead overlays for his various clients:

Every inlay guy likes to show off a bit, and Tom hands Richard a real "inlay tour-de-force"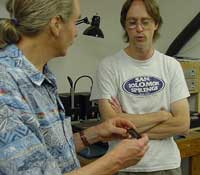 This remarkable scrolly inlay was cut from a single piece of pearl, and inlaid without any filler:


I'm surprised Tom could even pick up that fragile piece without cracking it!

A few logos for our friends in San Diego: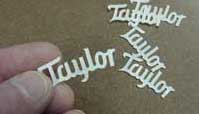 This fingerboard is one of the designs he offers as "stock" inlay.




A soundhole rosette, another Ellis original: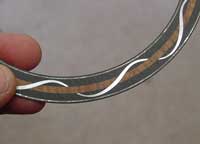 Tom does a fair bit of inlay design for some of his clients, including Collings Guitars.


Yeah, and after all those little bits are cut, somebody has to sort 'em out: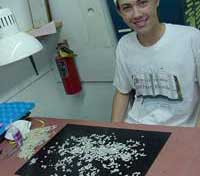 These are all little birds for Paul Reed Smith
A close up of same:



Bins of inlay everywhere:




Just as we were leaving, Tom showed us a very special Nineteenth Century guitar. It belonged to his great grandfather, who was killed at the battle of Gettysburg:


His slave picked up the guitar and walked home to Virginia to return it and himself to the family.


It was time to let Tom and the crew get back to work, and I shot this one last photo looking back at his idyllic shop building:




Back to Index Page