Page 1 of 4
Just for fun, it's
The Sideshow
Frank Ford, 1998, 1999, 2000; Photos by FF, 1995-2000


Step right up! See the shrunken bridge pins!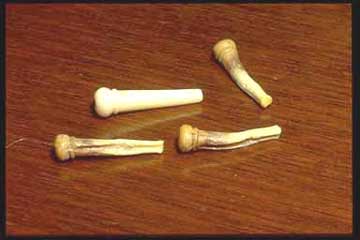 These old teeth were pulled from a 1947 Martin 00-17. The white one is a new pin, for contrast. Seems that the plastic used through the 1940s on lots of instrument gears and bridge pins was especially volatile stuff. . .

Serves as a good reminder to chuck those old bridge pins when they get chewed up. New pins are likely to give you much better mounting for the string balls.




---

Picture provided by Tom Smith, head of repairs at MARS Music, Nashville
The worst location for a pickup jack:


Well, Tom, this one will be hard to beat!


---


Here's a broken neck: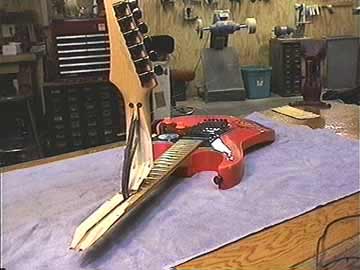 A big amplifier stack fell right on this baby while it was sitting on stage in its stand. Fortunately no people were hurt!


---

String Winding Blues
My guitar just doesn't seem to stay in tune since I put on these new strings:


Maybe if I had a few more turns around the post, that would help. . .


---


Case Repair Deluxe

This looks like an interesting case repair. Nice leather binding around all the edges:




You ain't gonna believe the inside of this case! And, to quote Dave Berry, "I swear I'm not making this up." It's on the next page.


More