Case Repair
Replacing Hinge Pins
© Frank Ford, 7/20/99; Photos by FF, 7/18/99

If you think the whole subject of case repair is trivial, you're right.

But trivial or not, it's a great service to the musician for me to be able to fix up a case right on the spot. Years ago I used to send players over to the luggage repair shop, where they were told a latch replacement would take two weeks, and parts might have to be ordered.

Now I have a small inventory of parts, and do the repairs myself.

So if case repair is trivial, then this particular case repair is really small time stuff.


Pretty obvious - this hinge lost its pin: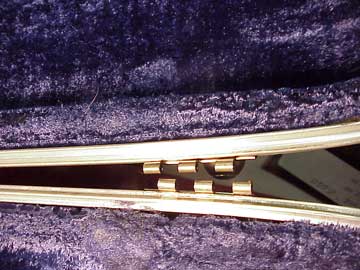 These little hinge pins are held in by friction, and frequently work themselves out.

A small finishing nail does the trick nicely:


Just tap it in place


Clip it off"



And you're done:





Back to Index Page