FRETS.COM Field Trip
---
Page 1 of 3
At Bryan Galloup's Guitar Hospital, Big Rapids, Michigan
Northwoods '98
© Frank Ford, 10/12/98; Photos by FF, 9/15/98


Hosted by Bryan and Susan Galloup at the Guitar Hospital in Big Rapids, Michigan, and organized by them with help from Dan Erlewine, the fourth Northwoods Guitar Repair Seminar was the best so far!

Bryan closed his shop for most of the week while ten "instructors" and 3 dozen "students" addressed all manner of guitar repair topics. We had demonstrations and lectures for four days, and lots of time to schmooze with experts who answered technical questions without reservation.


Abe Wechter, left, gives me a bit of advice on router setup:


Besides being a stellar instrument craftsman, Abe is an expert in small factory setup. He and his crew build the "Pathmaker" double cutaway acoustic electric guitar an innovative design with 19 frets clear of the body.

Abe gave us a slide presentation tour of his factory, including a lot of tricky setups, fixtures and techniques he employs.


He held nothing back as we all fired technical questions at him!



Our esteemed host, Bryan Galloup, went through the entire process of resetting a neck on a Martin D-18:





And demonstrated his unique adaptation of the tilting workbench with the neck jig:


He can simulate the playing position of the guitar while actually working on it.



The world's best known guitar repairman, Dan Erlewine, was on hand, keeping things running smoothly: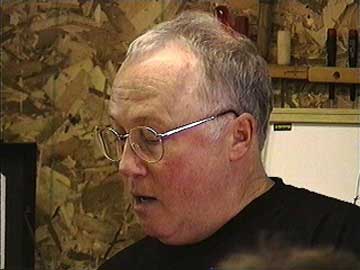 Dan showed off his technique for matching colored finishes using stain and finish sample boards made up with different formulations of "trans-tint" colors"



After seeing Dan's demo, I decided it was high time I made up my own stain boards, too.


Dan gave us a preview of his book, now available from Stewart-MacDonald. It's the first how-to finishing book for guitar builders and repairers. Definitely a must for professionals and amateurs alike!





More