Page 1 of 2

It's cool!
Guitar Inspection Camera
© Frank Ford, 3/1/98; Photos by FF, 2/26/98

This is the INSIGHT guitar inspection camera from Chapin Guitars, San Jose, CA 408-295-6252.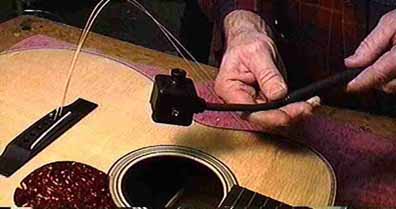 It's a miniature surveillance camera on a little flexible stalk. It fits easily into any flattop guitar's round soundhole and connects to monitor or VCR via standard RCA jack. Even though it's only B&W, it gives an outstanding view using only the light that passes through the soundboard from an ordinary desk lamp. Its lens will focus very close, or afford a full depth of field.



Here's a view inside a Collings OM-2H.


It's like walking into a guitar shaped room!

When Bill Chapin described this camera to me, I thought it sounded a bit too good to be true, but I was wrong (first time ever!) Bill hosted one of the every-other-month meetings of the Northern California Association of Luthiers and showed off the camera rig. I was immediately hooked and when he told me he would be gearing up to produce them for sale I insisted on being his first customer.

So it's a pretty fine tool for examining the inside of a guitar. Even better, it's the most amazing teaching aid. For years I've struggled to explain what I'm doing with my hands & tools inside a guitar. In January 1998 I used it as part of a repair demonstration and lecture a the Roberto-Venn School of Luthiery in Phoenix. You should have seen the eyes popping out like Wile E. Coyote's! For the first time everyone could see what I was doing inside there. . .

Bill says he uses it to show customers the insides of their guitar to be clear in describing the damage that needs repair. I'm starting to use mine that way, too.


More
1
2